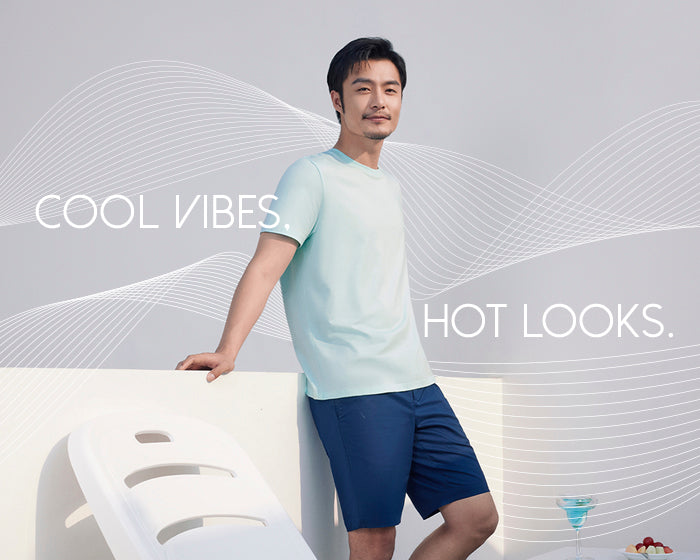 COOL VIBES. HOT LOOKS.
Introducing SS23, the hottest collection of men's clothing yet! Elevate your clothing with the latest InstantCool technology with a unique sense of style, making you stand out from the crowd. "COOL VIBES. HOT LOOKS. " perfectly captures the essence of our collection, experience the confidence that comes with wearing DETERMINANT SS23 Collection.
From sleek and sophisticated shirts to casual and comfortable relaxed-fit t-shirts, SS23 has something for every occasion this summer.
Our collection is designed to inspire confidence and make a statement, no matter where you go. Whether you are hitting the town with your friends or impressing at a business meeting we have got you covered.
Coolness Unlocked
Mastering the 4 Cs for an Effortlessly Cool Style
Choose Lighter Colors
Choosing darker colors can lead to more heat absorption, whereas lighter colors can help reflect the sun's rays and decrease your discomfort level in hot weather. By making a simple change in color selection, you can significantly improve your comfort in sweltering conditions.
Choose A Relaxed-Fit
Constricting garments can trap heat and cause a feeling of suffocation. Instead, opt for relax-fitting attire that promotes air circulation around your body and allows for free movement. This choice will help you feel more at ease and comfortable during hot weather.
Choose Lightweight Natural Fibers
Choosing lightweight fabrics and natural fibers that offer more breathability and a cooler feel that is excellent for staying cool in the heat. These materials also effectively absorb and wick away moisture, and promote air circulation, which helps to keep you feeling refreshed and cool.
Choose Luminous Technology
Experience the ultimate comfort during hot weather by selecting clothing infused with our innovative InstantCool technologies. This advanced technology works to ensure you stay dry and comfortable even on the hottest days, offering benefits both seen and unseen. Embrace these innovations to stay cool and stylish throughout the summer months.