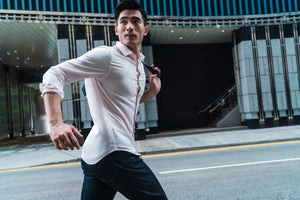 Move all you want, stay wrinkle-free.
With advanced anti-wrinkle technologies, it requires almost no ironing to achieve a flawless appearance. An unmistakable item in your wardrobe.
Ordinary Cotton Shirts
More cotton, more wrinkles – that is usually the case for most of the garments. A crinkled shirt will make you look unprofessional, while ironing is very time-consuming.
DETERMINANT's Wrinkle-Free Shirts
Our Wrinkle-Free Collection, made of 100% extra-long staple cotton, is crafted with patented anti-wrinkle technology. The fabric will undergo a chemical process named "cross-linking". (Click here to learn more)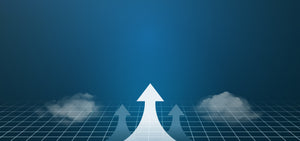 DP 3.5Anti-wrinkle performance & breathabilityPerfectly balanced.

Durable Press rating is a industrial standard unit – as well as a method to determine wrinkling evaluated on a 5-point scale. To strike a balance between anti-wrinkle performance and breathability, we have chosen to maintain a DP rating of 3.5. Wrinkles are always smoothened out – almost no ironing required*, while comfortability remains.

**Depending on washing and drying conditions, little ironing may be needed for perfect appearance.
To make wrinkle-free possible, you will be surprised how much effort we have put in.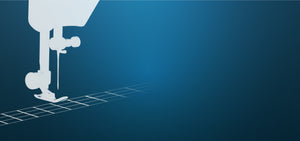 Special Sewing Process
A true testament to craftsmanship.

To reach ultimate wrinkle-free performance, we apply taping technique when sewing up pieces of fabric, for example the seam on shoulder, placket and collar. This will effectively stabilize fabric and thread from shrinking in water or under heat, so as to prevent ripples and wrinkles to form. Together with a careful control of the stitch per inch, speed of the sewing machine and tension of sewing thread, wrinkle-free performance is further enhanced.
The shirt is incredibly easy-to-care.
Styling for work has never been easier.

If you want a shirt that has almost no wrinkles, that is it.
Dress Shirts
An essential to introduce to your wardrobe, our dress shirt will boast a fitted silhouette to project a professional look at workplace.  These classic styles will prove to you the definition of  timelessness. Available in up to 61 sizes collar, sleeve, and fit combinations, it is nearly impossible for you not finding a precise fit.
Smart Shirts
A versatile smart-casual shirt that can be dressed up or down to always look the part. A shorter body length that can be styled tucked in or out for flexibility at work or the weekend, wherever you go. They will perfectly crown your styling from casual to semi-formal occasions.
WRINKLE-FREE SHIRTS
Stylish and low-maintenance wrinkle-free shirts for men
As any professional can attest, mornings are rushed enough without having to spend extra time pressing every crease on your shirt into oblivion. Undeniably though, a wrinkle-free shirt is essential for a polished and clean look. Our wrinkle-free cotton shirts for men are made with naturally crease-resistant fabric, taking the tedious chore of ironing out of the equation. No matter how many times you wash and dry your shirts, you can count on them to stay in pristine, wrinkle-free condition. Buy our men's wrinkle-free cotton shirts online today, available in Hong Kong and select locations in Asia.
Wrinkle-free shirts sound almost too good to be true, but it all comes down to the composition of the fabric. Normally, clothes wrinkle when extra heat or water breaks the bonds of the fibers in the fabric and moves them from their original position. Our premium men's wrinkle-free shirts are made from 100% extra-long staple (ELS) cotton with stabilized fiber molecules that make them resistant to creasing.
In addition to wrinkle-free technology, we equally prioritize your comfort when wearing our shirts. We use premium ELS cotton that is not only lightweight and highly breathable, but also super soft and smooth on the skin, providing unrivaled comfort. Even individuals with allergies and sensitive skin can enjoy our men's wrinkle-free shirts.
You can buy our wrinkle-free cotton shirts online in a variety of styles, ranging from smart-casual button-down smart shirts, and flannels shirts to formal dress shirts. Whatever occasion you may have, you can count on our shirts to show up looking sharp and wrinkle-free. Our wrinkle-free collection for men keeps it simple and classy with modern shirt designs and versatile silhouettes that can be dressed up or down. You can find colors running the gamut from white, navy, and black to olive and pink. Our shirts are available in both slim and regular fits.
We provide free shipping to Hong Kong with no minimum spending and to Singapore on orders over 100 HKD, or local currency equivalent. We also ship to Macau, Taiwan, and Malaysia. Click here to learn more about our shipping and delivery policy.
Visit our FAQ page to get all the information you need regarding our products, orders, terms and services, and delivery. If you cannot find your answer on our FAQ page or need help with finding your perfect fit, please do not hesitate to contact us via email at cs.hk@detshirts.com or our CS hotline at (+852) 29606888. We are more than happy to assist you!